So as promised from last week. Another Korean dish this week.
Today it will be Jap-Chae (잡채). The dish is not that hard to make, and it is nice to be enjoyed in the summer or winter, making it perfect for both sides of the world.
Japchae is a stir-fried dish that combines sweet vermicelli noodles made from the starch of a white sweet potato, thinly slices of beef, and various vegetables. It is usually prepared with carrots, green onion, spinach, shiitake mushrooms and green peppers. Beef may be added as an option but may be left out to be served as a vegetarian dish. The noodles are gray when raw and turn almost translucent when cooked (thus given its popular nickname, glass noodles). When cooked correctly, they retain a chewy texture.
My mum has actually mastered this dish so I had asked hr for the recipe. It is sorta weird though, because I'm not Korean yet my mum knows how to make Korean food. I guess you can call it being multicultural.
Anyways, back to the dish.
Ingredients
12 oz noodle (Dang Myun)
4 oz beef
5 shitake mushrooms or Chinese black mushrooms
1 carrot
1 onion
1 egg
⅓ lbs spinach
5 tbs oil
1 tbs sesame seed oil
2 tbs soy sauce
Salt & black pepper (pinch)
Sesame seed (pinch)
1 tbs minced garlic
1 tbs chopped green onion
Method
1. Soak mushrooms in water for 15 minutes. Cut off stems then cut the caps into thin strips.
2. Cut beef into thin strips and marinate it with the mushrooms in a seasoning of: soy sauce, sugar, minced garlic, sesame seed oil, chopped green onions, and a pinch of ground pepper.
3. Cut carrots and onion into thin strips (julienne).
4. Cook spinach in boiling water for about two minutes. Cool spinach in running water. Squeeze the water out of the spinach. Season the spinach slightly with salt and sesame seed oil.
5. Batter and fry the egg in a pan with a pinch of salt. Once cooked and cooled, cut the egg into thin slices.
6. Cook the noodles in boiling water for about 2-4 minutes or until soft (You may want to cut the noodles in half before hand if they are too long). Rinse in cold water and drain.
7. Start cooking the beef and mushrooms with a bit of oil.
8. When beef is cooked, add carrot, onion, spinach, and noodles and stir-fry.
9. When vegetables are cooked, add the sliced egg and use salt and soy sauce to season the dish to your taste.
10. Put it all in a dish and sprinkle some sesame seeds for the final touch.
Can be served hot or cold.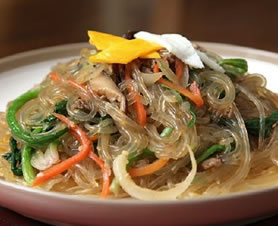 The dish isn't hard to make. The most trouble you will have may be actually finding the correct type of noodles for the Japchae. The easiest way to find it is to go to your closest Asian grocer and try to look for it, it is probably easier to look for sweet potato vermicelli noodles than for dang myun so I suggest doing that. Also this can be a vegetarian dish by leaving out the meat, so it is easy to accommodate for all eaters.
I hope you guys enjoy that, it is a simple Korean dish that is perfect for those of you who can't handle spicy things.
Another Korean dish next week? I think so (: